Reverse Supply Chain Management
The Reverse Supply Chain is a defined strategy and support process, designed to incent the service engineer or customer to return the used product (core) to a centralised collection point, enabling the remanufacture of the product (core).
Any remanufacturing program is only as effective as the Reverse Supply Chain and a robust and efficient remanufacturing process allows. Experience shows that in some cases core returns on established remanufacturing programs can yield as little as 30% of current demand.
Not only the return of the used product (cores) but their condition on receipt is also critical to deliver a profitable remanufacturing programme.
APDI Ltd offer full control of the return stream by working with Customers carriers or by independent means, to maximise returns and core condition to ensure that effective, productive remanufacturing is viable.
Many options exist to stimulate core returns. Selection of the correct method(s) depends on the Customers Supply Chain strategy (Internal service operations vs Third Party service etc). This can be fully explored and the most effective strategy selected during project development.
Cores can be directed back to Customers warehousing or direct to APDI ready for order placement and reprocessing.
Our Mission and Principles
of Remanufacturing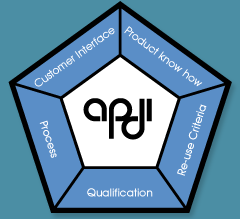 Our Mission is to be regarded as experts in the re-manufacture of electro-mechanical modules/ assemblies. Click a segment for more details.
Learn the module application and customer expectations. Understand the module design and component functionality.
Learn the failure modes- Critical to know the reman process will capture all failure causes. Develop re-use criteria for all components.
Ensure capability of new materials. OE materials/components preferred. Rigorous field trials. In-house testing to ensure functionality and life.
Understand assembly requirements and settings- dedicated tooling and fixtures to provide capability. Fully trained workforce participating in the development of the process and FMEA's. Robust final inspection. 100% machine test often used. Continual improvement as process matures. Build team involvement.
Work closely with customers' & supply chain from design through manufacture to field support specialists.
The Circular Economy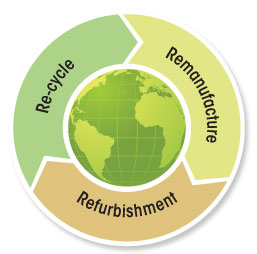 APD have been at the forefront of the re-use/recycling industry, saving over 100,000 tonnes of landfill in the past 10 years.