Remanufacturing & Refurbishment Processes

Our remanufacturing & Refurbishing processes are specifically designed to meet the needs of each customer, and will include a variety of operations and controls, appropriate to each particular product.
Customers are able to choose the extent and level of remanufacture or refurbishment and, if required, the source and specification of components.
Goods-in, In-process and Final Test regimes are a crucial aspect of our controls and may include: Destructive and non destructive testing, Life-span testing, Performance testing, Testing for function, to agreed levels
A summarised but typical process is illustrated below:
Receipt of incoming product and identification.
Strip - Clean - Wash if necessary.
Assess suitability for remanufacturing
Choose BOM parts and re-assemble as per Work Instruction
Test/Inspect and per criteria and Work Instruction
Identify with unique APDI labelling
Final pack /despatch
Once a job is scheduled, the operators assigned to that job are responsible for every stage of the process from unpacking the unserviceable part to final pack and despatch. This ensures full traceability and gives them total responsibility to meet customer's needs.
Process Flow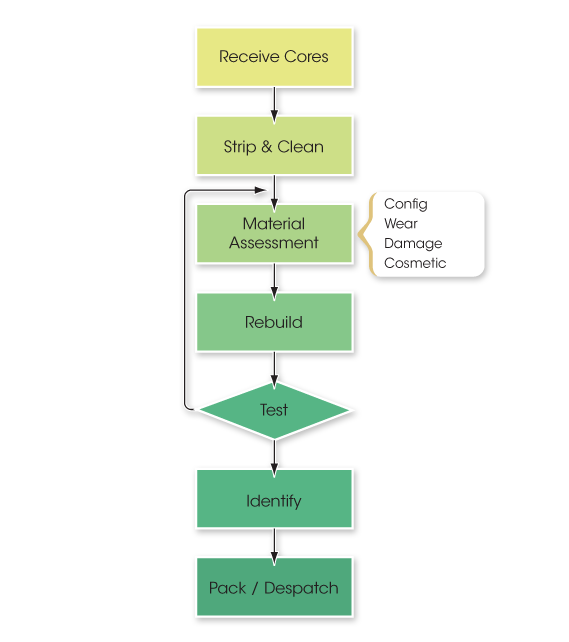 Our Mission and Principles
of Remanufacturing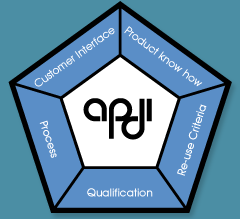 Our Mission is to be regarded as experts in the re-manufacture of electro-mechanical modules/ assemblies. Click a segment for more details.
Learn the module application and customer expectations. Understand the module design and component functionality.
Learn the failure modes- Critical to know the reman process will capture all failure causes. Develop re-use criteria for all components.
Ensure capability of new materials. OE materials/components preferred. Rigorous field trials. In-house testing to ensure functionality and life.
Understand assembly requirements and settings- dedicated tooling and fixtures to provide capability. Fully trained workforce participating in the development of the process and FMEA's. Robust final inspection. 100% machine test often used. Continual improvement as process matures. Build team involvement.
Work closely with customers' & supply chain from design through manufacture to field support specialists.
The Circular Economy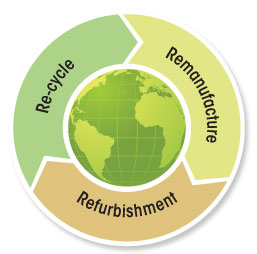 APD have been at the forefront of the re-use/recycling industry, saving over 100,000 tonnes of landfill in the past 10 years.